This is something I have wanted to write about since I started this blog, but I wouldn't allow myself to until I reached 90 lb exactly haha. I know it's so easy to be dishonest on the internet, but this something I am really proud of and want to be totally honest about.
I had been chubby since I started getting closer to puberty, by the time I got my period I was noticeably overweight. I had a short spell of starvation weight-loss, but once I started eating normally again I gained all back, plus more. I continued to gain more and more weight until I reached 235 lbs.
Me before and after 41 kg weight loss
One day I woke up and it was like epiphany, a veil was lifted off my face. I was sick of being the token fat chick, and I was going to be thin. The desire to change coursed through my veins. I firmly believe that no matter how much you wish to be thinner, you will never reach it with out the desire and vision.
The easiest way to start dieting is to simply eat less of what you already eat. Track what you eat for a couple days, count the calories and then try to lower it to around 1500 kcal. Also,
give up soda and alcohol!!
This seems so obvious and the easiest way to cut a lot of calories, but you'd be surprised how many people claim to be dieting but still drink sodas with their salad.
I started slowly by just walking on the tread mill 30 minutes, and increased time and intensity as my weight came off. I started adding 5 mins to the time each week, and when I was up to 1 hour, I switched to 30 mins on the tread mill and 30 on the elliptical.
How my face changed
Remember to
switch between your cardio exercises
every 10 minutes or so. If you are already close to your goal weight, spending 30 minutes doing only one exercise will have no effect at all. Your body will just get used to it and burn no calories. Mix up your cardio with strength training,
lift those weights
! No matter how afraid ladies are of gaining muscle weight, muscle will burn so many more calories! You will loose weight so much easier!
Now I am doing a Jillian Micheals DVD, the
30 Day Shred
. It's circuit training and it's soooo difficult, but it has made such an obvious difference in my weight and metabolism. I cannot strongly recommend circuit training with weights enough. Sadly
to really loose weight you have to really work out
, you can't just diet or do some crunches. I exercise about 60 minutes a day, 7 days a week.
It is not to say dieting is unimportant of course. Its very important for your general health as well. Everyone can benefit from eating a balanced diet, heavy in vegetables. The key is to
eat a large variety of foods
. Eating only 1 type of food will make you very weak and unhealthy, you won't be able to exercise. You need some carbs, you need some sugar!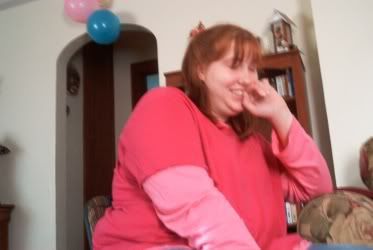 An embarrassing photo of plus size me haha!
Eating 4 to 6 small meals throughout the day has proven to help with weight loss. Don't be afraid to eat often! It won't make you fat as long as you aren't eating high fat foods. Here I will list some food tips that are easy to adopt.
1: Eat more fish, less meat.
Of course fish can contain mercury, but they are full of protein, with out all the fat and calories of meat. A serving of meat/fish is about the size of your palm. Don't eat more than that.
2: Fruit is ok.
Some people say not to eat fruit since it has natural sugar, but you need some sugar for energy. As well it provides vitamins. I recommend citrus fruit, especially grapefruits. They are sour I know, but they have lower sugar. I also like to snack on raisins.
3: Fiber will fill you up.
Everyone should eat some carbs, and it's best if you can make them fiber carbs. Fiber is easier to digest and makes you feel full. Eat your fiber for breakfast to avoid snacking. Try oatmeal, or whole grain pasta.
4: Nuts are your friends.
Nuts have high fat for sure, but they have protein and nutrients! Eating a small serving of
raw
almonds or walnuts for breakfast is a great idea. Eating chewy food as your first meal generates saliva and helps with digestion during the day.
Other foods I highly recommend are blueberries, which have antioxidants. Green tea is a dietetic and helps flush out your system. Eggs can actually be good for you, just only eat one a day. You can never eat enough veggies, when you have dinner eat 1 serving of protein and 2 cups of veggies.
How I look today^^
Well this post got really long haha >< I still want to write more about this topic, especially the emotional aspect of it. I am not an authority, but if you have any dieting questions please feel to ask me, because I've learned alot on my journey^^