Its been forever sine my last cosmetic review. I think I am sloth to review products, especially because I don't feel like I have the experience or knowledge to voice my opinion on beauty products. But lots of people have been kind enough to give me compliments on my makeup that I thought I should share the items that I use often.
Too Faced Lash Injection packaging
Too Faced's Lash Injection mascara
has been my first layer mascara for a year or so now. The main point of Lash Injection is to make eyelashes appear thicker. I imagine the name is in reference to injecting filler into your lashes to plump them up haha. Here are the key points of Lash Injection according to Too Faced's website:
3D lash coating technology
- forms little tubes around each lash that actually plump and stretch each individual lash, building phenomenal volume and length.
Curling Effect
- fast-drying elastic polymer provides a "curling" effect, which helps to lift and freezes lashes without a curler.
Waterproof
- industrial strength formula will withstand weddings, the gym and even sad movies. Lash Injection wont come off until you take it off.
Zero smudging, streaking or flaking
- long-wearing day or night.
Close up of the brush
I can say with confidence that Lash Injection does deliver 100% on several of it's claims. I have had no trouble with streaking or flaking. I really hate when mascaras flake! But this one never flakes and nor is it gloopy or clumpy. I'm not sure about the waterproof-ness as I don't usually cry or sweat, it always stays in place.
I think the photo below shows the "curling effect" my mascaraed lashes do appear slightly lifted though I didn't use a curler before. I do see a bit of extra thickness, but it's not very darkening and no lengthening at all.
Argh, I hate close ups of my face. Notice how I have 2 eyelid folds on the left eye...XP
Lash Injection is a very great mascara for daily looks, it's subtle and easy to apply. It also works nicely under lengthening mascaras so you can get the best of both worlds XD I have bought this several times, and I will likely keep buying it in the future!
I would give Lash Injection
4 out 5 stars
!
Do you enjoy beauty reviews? It is something you'd like to see more of?
And just to make this post a little more worth while here are some amazing giveaways you should check out.
Don't forget to join my giveaway also!
Geek + Glam is having her
50 Followers giveaway
, the prizes are super cute and girl. Go sign up now!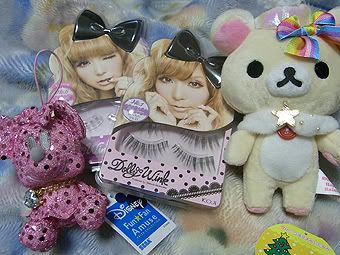 Glamourberry is having a
lovely giveaway
to help out people who can't easily get items from Japan. One word ladies - Dollywink XD