Hi everyone! I hope your summers are starting out nicely, mine is ever the same - heavy stress and boredom from my job haha. Now that I work full time, summer isn't special anymore. I know people in school talk about how hard and stressful their lives are, but I dearly want to tell them it doesn't get better. But the good point is the money, even tho I hate everyday I can easily save money for my Japan Trip 10 and that keeps me going haha :D
The other thing that keeps me going is Japanese fashion, Larme, my fave models and cute stuff. So it really makes me happy today I can write about fashion once again. I know lately all I've been writing is reviews (this is one too really XP) but today I can show something a bit different. Today we are going to learn about a Harajuku/Shibuya brand called
KOKOkim
!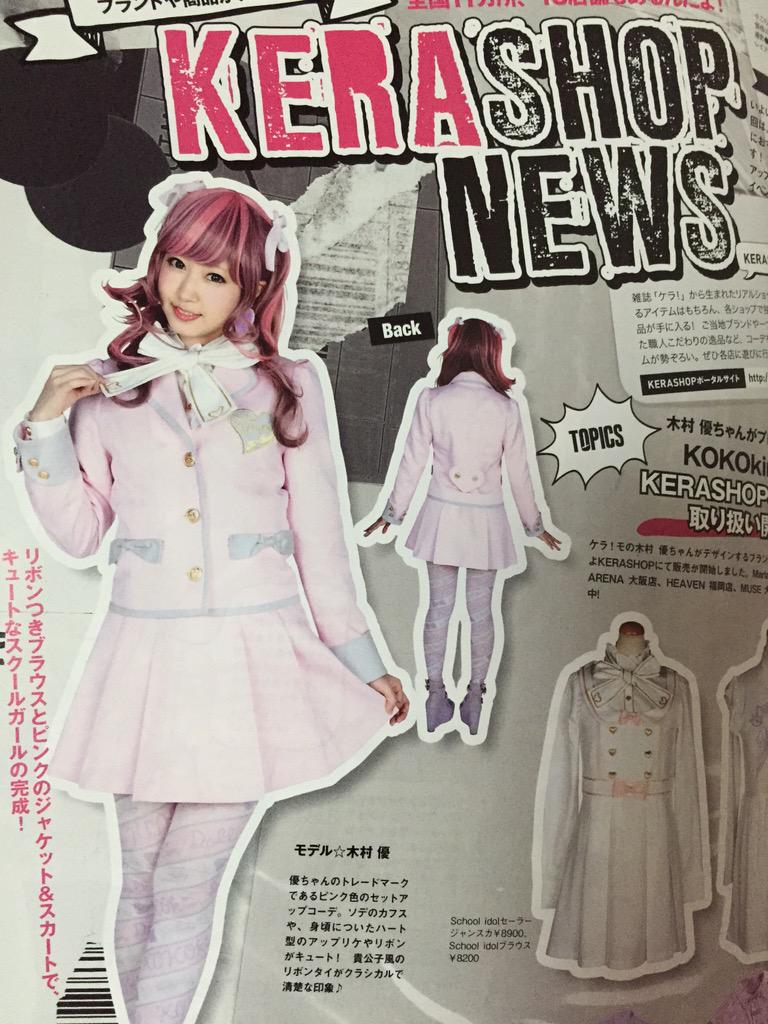 via Kimura U's official twitter
Kimura U
is a well known and cute model from the Japanese magazine Kera, she is also featured in other magazines like Zipper now and then. Mostly she is shown in Lolita style, but her personal style is somewhere between Lolita, Aomoji, fairy kei with a dash of Anime. In fact she lists anime and manga appreciation as one of her main hobbies along side crafting and remaking clothing. In 2014 she took that love of cloth styling and turned it into a full blown brand called
KOKOkim
.
KOKOkim is a super cute youth brand focusing on sweet details and pastel colors. The word
Kimura U
invented to describe her brand's style is "MoeHara" - combining the words Harajuku and Moe. This is a nod to her love of anime, Moe has no direct translation to english but it basically means an endearing cute feeling you get from anime characters (or idols, etc). So
KOKOkim
style is Harajuku with a fantasy twist. However the physical store is
located in Shibuya 109
.
KOKOkim skirt courtesy of Yesstyle
I was recently given the chance to try incorporating a piece of
KOKOkim clothing
into my wardrobe thanks to
Yesstyle.com
- they offered me to review a Japanese fashion brand item of my choice and I ended up picking this skirt as I thought it would best fit into my Larme Kei style!
This skirt came from the debut collection, which featured Risa Nakamura as the lookbook model. Did that sway my choice... maybe :D I was a bit worried that the skirt would be too short for me. But luckily this skirt comes just past the scandalous length on me (I'm 173cm) and would be a perfect miniskirt length on anyone shorter. The volume of it also makes it appear more covering than it it. The waistband is partially elasticized so it can accommodate a variety of sizes.
The material is pretty regular quality polyester, it has a light inner skirt and a sheer over-skirt with a ruffle trim. The two combined makes a very sweet appearance, but it is sheer! You will need nude color panties when you wear it.
However the main charm of this skirt is the removeable apron! I really love that you get a little apron to wear with other dresses, and you can wear the skirt plain without it as well. The apron is very well made with a nice ruffle and a gold embroidered "Kokokim" along the edge. This style can be dressed up to make a cute maid MoeHara look, or dressed down for something more Larme as I would wear.
Skirt worn by me
my larme-kei style coordinate feat. KOKOkim skirt!
Overall I really love the skirt and I think I came up with the perfect coordinate for it!
Yesstyle
has always provided me with
great service
, fast shipping, lots of timely communication and positive attitude. They
have tons of Asian fashion and accessories
, so make sure to check them out!
And right now KOKOkim is doing a collab with @home maid cafe! Take a look at
Kimura U's twitter
for the cute clothing and desserts she's designing for KOKOkim and @home, I really wish I could eat
this parfait
!